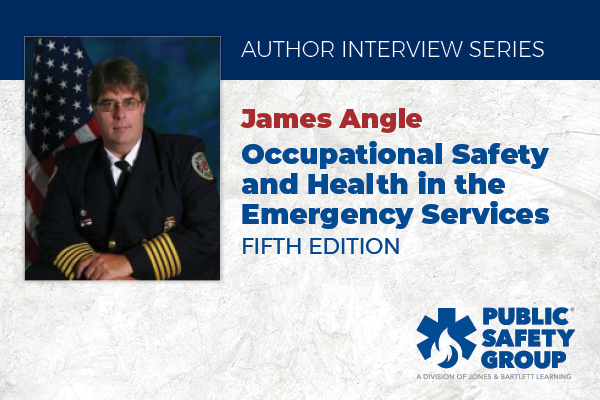 As part of the Jones & Bartlett Learning Public Safety Group Author Interview series, we had the chance to talk with James Angle about the Fifth Edition of his book, Occupational Safety and Health in the Emergency Services, to learn more about his experience, what's new in the book, and why he thinks it's a valuable contribution to the fire service community.
Can you tell us about your background in the fire service?
I started in the fire service at the young age of 16. At the age of 18, I became a regular member of the fire department in which my father was a volunteer firefighter. It was located outside of Pittsburgh, Pennsylvania in Monroeville. In addition to serving as a volunteer firefighter, I was employed by the City of Pittsburgh as a paramedic. So, I've been in the fire service for over 40 years now. In 1981, I moved to Florida and served in the Hallandale Beach and Palm Beach County fire rescue departments before becoming the Training & Safety Officer for the South Trail Fire District in 1988. Not many fire departments had training and safety officers at the time; it was just starting to become more common. One of my first tasks at South Trail was to take NFPA 1500
and 1501 (later 1521) and use them as a benchmark to institute training programs and safety programs in our department. In the early 90s, I was doing review work for a publishing company, and I pitched the idea that there was no textbook at the time for first responders on safety and health. This led to the development of the first edition of this book around 1996. In the same year, I was appointed Fire Chief for the Palm Harbor Fire Rescue Department, from which I retired in 2013. I have also served as an instructor at St. Peterburg College since 1997.

What's new in Occupational Safety and Health in the Emergency Services, Fifth Edition?
In the years since the Fourth Edition, many applicable standards have been updated, and best practices developed, to meet current trends in the industry. The Fifth Edition is written to address these changes. We've also added or expanded on some timely subjects, including:
Traffic incident management. This section was added due to the rate of responders being injured or killed due to poor traffic management in places like highways when managing a brush fire, vehicle fire, vehicle crash, medical emergency, or something else.


Mental health awareness. This edition includes an expanded section about mental health and mental illnesses, and how to manage responses to stressful events.


Active assailants. More information has been added about active assailants to build upon the coverage of this topic in the Fourth Edition.


Firefighter cancer. This has been a big topic in the fire service for the last several years. There is a lot being done to minimize exposures, including decontamination, protective clothing maintenance, showers, and more. We've added information here to help guide the reader to implement programs to help reduce cancer risk in their fire department.


What are the top 2-3 reasons why you think a safety training officer or instructor should use this book over other options?
This book takes a comprehensive approach to occupational safety and health. It doesn't just talk about types of incidents and ideas on how to implement safety practices. It also looks at risk management, applicability of safety regulations and standards, safety committees and their goals/objectives, data collection, data analysis, and information management. I truly feel the book is a one-stop shop for relevant personnel.
There are 14 chapters in this book, and to be honest, each chapter could probably be a textbook within itself. However, there is a chapter on risk management, and there are hundreds of books out there on risk management; therefore, we're not aiming to compete with those titles. The goal of the book is to give readers enough to set them off in the right direction in terms of what to look for in their safety program. For areas where they need more help, that is when they can research and pull in material from more specific books and educational sources.

Which chapter do you think is the most important in the book?
That is a tough question. I picked the "Fire Emergencies" chapter as the sample chapter for this book because I think it highlights a lot of the contemporary issues the fire service is facing today, such as firefighter cancer. However, I think the "Program Management" chapter is the most important because without understanding what you need to have in a safety program, your program is going to be a mess. At the same time, some would also argue that if you don't understand risk management, you wouldn't know what kind of program you need. Someone else might argue that if you don't understand fire and medical emergencies and specialized incidents, then you wouldn't properly understand risk management.
Overall, it's a tough question, but if I was forced to pick one, I'd say "Program Management." Safety officers and other personnel want to know what they need to get their program started, and some of this naturally involves risk management, so it's a comprehensive and important chapter.

I know you've touched on this already, but both cancer and mental health
awareness are critical issues right now in the fire service. Can you expand on how you addressed this within the content of the book?
The first thing I would say is, while this book does have a fire "flare" to it, a lot of the material is applicable to paramedics and other non-fire EMS personnel, particularly the section about mental health. In terms of how the topics are addressed, we include sample procedures and a lot of information about mental health and responses to atypical events. There are also resources like the National Fallen Firefighters Foundation (NFFF), Stress First Aid (a component of the Firefighter Life Safety initiative), and a lot of reporting around cancer. There's enough info to get readers started on what to look for and where improvements to a safety program can be added.

I see Chapter 7 ("Safety at the Medical or Rescue Emergency") in the Fourth Edition was split into two separate chapters (Chapter 7, "Safety at the Medical
Emergency," and Chapter 8, "Safety at the Rescue Emergency") in the Fifth Edition. What contributed to that decision?
We felt there was a need to focus more specifically on each topic. For example, the information about traffic incident management was in the "Safety at the Medical or Rescue Emergency" chapter, but there was not enough material on it. Therefore, we felt it should be broken out into a separate chapter so we could expand on the topic. One of our reviewers from the Fire Department Safety Officer Association (FDSOA) suggested splitting that chapter into two separate chapters, as well. With the expansion of the section about infectious diseases control following the COVID-19
pandemic, in addition to the expanded coverage of traffic incident management and technical rescue, the chapter was too bulky, and it was clear that breaking the chapter into two separate chapters made sense.


I noticed you added a new appendix to the Fifth Edition (Appendix B: NFPA 1521: Standard for Fire Department Safety Officer Professional Qualifications, 2020 Edition, Chapter 4—Health and Safety Officer Correlation Guide). What does that correlation guide in the appendix do, and how do you see it being used by fire departments to make their personnel safer?
We added it to be consistent with Appendix A, which correlates to the FESHE guidelines. Additionally, since FDSOA uses it for their certification exams, we wanted to make sure that they could go back and cross-reference our text with the JPRs and standards to which they train for their certification exams.
---

For more information on Occupational Safety and Health in the Emergency Services, Fifth Edition, please visit our website or contact your Public Safety Group representative today.