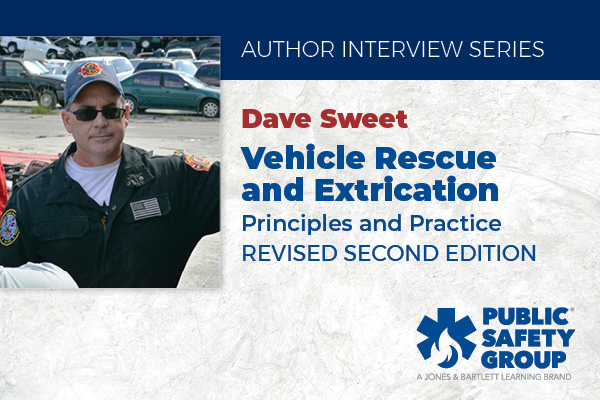 As part of the Jones & Bartlett Learning Public Safety Group Author Interview series, we had the chance to talk with Dave Sweet about the Revised Second Edition of his book, Vehicle Rescue and Extrication: Principles and Practice, to learn more about his experience, what's new in the book, and why he thinks it's a valuable contribution to the fire service community.
Can you tell us about your background in the fire service?
I started my career in the fire rescue service in 1984 and currently serve as Deputy Fire Chief for North Lauderdale Fire Rescue in South Florida. My passion for vehicle rescue and extrication occurred after I was involved in a vehicle accident in 1987, where an intoxicated driver slammed into my SUV, causing it to flip and trapping me inside. Fire Rescue services from Broward County quickly extricated me, and I was transported to the hospital. I vaguely remember the events that occurred, but I believe that God had an angel with me that night and spared me any long-term, debilitating injuries. From that moment on, I have had a burning desire to learn everything I can about vehicle rescue and share that knowledge with all my brothers and sisters in the fire rescue and emergency services. Over the years, I have been blessed to work with many great individuals and fire rescue departments across the country. I've had incredible opportunities to write articles for trade magazines and teach at large venues. I have been involved in organizing numerous vehicle extrication competitions, including cochairing and organizing the 2005 International Extrication Competition, as well as being a competition assessor at the Nationals. I have also had the incredible experience of working with Jones & Bartlett in writing my first book in 2011, the Second Edition in 2018, and now completing this Revised Second Edition. I truly believe that there is always something new to learn and share, with the goal of serving and helping others. If one of my techniques is used to save a life or improve the outcome of a complex incident, then I am grateful and honored to have had the opportunity to give back.

What's new and notable in the Revised Second Edition?
The most notable change is the NFPA Technical Committee's decision to separate Common Passenger Vehicle Rescue from Heavy Vehicle Rescue by now applying the skill level and training of Awareness level, Operations level, and Technician level to both types of vehicles in two separate references, Chapters 8 and 9 of NFPA 1006. We also updated and re-arranged some of the chapters to better fit in the scope of Awareness, Operations and Technician levels according to the latest editions of NFPA 1006 and 1670.

What are 2-3 reasons why you think someone in the fire service should choose this book over other resources for learning about vehicle rescue and extrication?
What stands out is that I can relate to the reader; I worked the streets for many years and understand the complexities of running an emergency incident. I designed this book with the focus on the immediate usability of the material rather than just creating a textbook with robotic procedures and technical verbiage. This book will allow the reader to immediately apply the skills learned to the job at hand. I approach this from a street level perspective and stress control, speed, and efficiency in operations.

Could you tell us more about the 3-step process for extrication you cover in the book?
Again, I stress usability of the book and try to quantify what can be a very chaotic incident into 3 phases or steps that the officer can quickly remember and apply to simplify the process.

STEP 1 – Stabilize the Scene: To ensure that you have a safe environment to operate in.

STEP 2 – Stabilize the Vehicle: As you want to limit any unnecessary or unanticipated movement of the vehicle that can jeopardize the safety of the crew and patient.

STEP 3 – Stabilize the Patient: You don't just run up to a vehicle and yank the patient out; doing so can potentially cause further injury to the patient. Our role as technical rescuers is to reduce any further impact on the patient by applying precision techniques and creating large openings to eliminate or minimize any obstruction to the removal process. The technical rescuer needs to develop and deploy an Incident Action Plan and create a large opening to safety extricate the patient. We want to strategically remove the vehicle from the patient, not the patient from the vehicle.

Applying these steps will absolutely help better manage the incident and provide you with the best chance of success at a vehicle rescue and extrication incident.

How do you address alternative fuel vehicles and the impact they can have on
vehicle extrication?
Each fuel system has its own unique chemical and flammable composition and will obviously have to be approached with caution. If there is an active fuel leak, then this will have to be addressed using the most current version of the DOT Emergency Guidebook for mitigating the type of fuel hazard. The one important thing to remember about alternative fueled vehicles is that it is still a vehicle regardless of the type of fuel or propulsion system utilized. The standard hybrid or alternative fueled sedan has the same structural body anatomy as a standard common passenger vehicle. Yes, you will encounter various high voltage electrical components and wiring, but awareness, recognition and avoidance of these components is the key to a successful outcome. It is correct to be cautious when dealing with unique fuels and/or propulsion systems, but paralyses from over-analysis can be detrimental to any operation.

Why is mechanical energy and vehicle anatomy a critical component of training?
Understanding the sequence of events that transpire when a vehicle collides with another vehicle or object in relation to how the transfer of mechanical energy on the body of the vehicle and the body of the occupants occur is critical in recognizing the mechanism of injury and the medical intervention needed. A body in motion stays in motion at the rate of speed until the interaction with another force/object occurs. Vehicle anatomy goes hand in hand with mechanical energy. Understanding the components that make up a vehicle and how they are designed to resist and/or collapse during a collision is also just as critical. Training on vehicle anatomy explains what you are cutting or spreading, where to cut or spread, and why you cut or spread it in certain precise locations. Having a greater understanding of vehicle anatomy will produce success at an incident by improving speed and efficiency in applying the correct technique.


What is the most critical knowledge/skill at the Awareness level? Operations level? Technician level?
Awareness level: Know your limitations and call for additional resources immediately. Don't try and overstep your level of training and potentially cause further harm to yourself or the patient. The Awareness level is basically an introductory level, and recognition is the most important tool that will be utilized here.

Operations level: Ensure that you have a solid IAP (Incident Action Plan) in place prior to engaging in the operations of the incident, as well as ensuring that all the members of the team fully understand the IAP. The IAP is a fast 3-step process in ensuring that everyone is on the same operational page:

PLAN A – Entry Plan: How are you getting in the vehicle?

PLAN B – Extrication Plan: How are you applying the tools and techniques to create a large opening for patient removal?

Emergency Plan: Where is an area of refuge that all the members of the team can immediately evacuate to if an unseen incident occurs, such as a traveling vehicle crashes into the initial accident scene? All members need to be accounted for immediately.

Technician level: You are dealing with a more complex incident and attention to detail is crucial. Time is critical, but don't rush through the operation; think about the movement, play it through your head, and thoroughly know the technique you are going to apply. Your continual training is paramount to perfecting your technique and applying it at the right moment.
---

For more information on Vehicle Rescue and Extrication: Principles and Practice, Revised Second Edition, please visit our website or contact your Public Safety Group representative today.