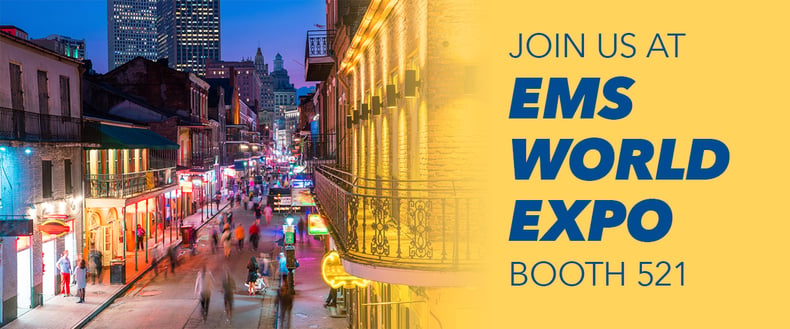 The Public Safety Group and Fisdap will be exhibiting at EMS World Expo at the Ernest N. Morial Convention Center in New Orleans, Louisiana from October 16 – 18, 2019.

EMS World Expo 2019 Exhibit Hall
Stop by the Public Safety Group Booth 521 to learn more about the all-new, forthcoming Paramedic Flipped Classroom, experience an Immersive Learning Center with a virtual reality headset, and look inside our latest and greatest resources! Representatives from the Public Safety Group will be on hand to answer any questions you may have.

Feeling stressed about record keeping, accreditation, certification testing, managing an internship schedule, or keeping tabs on your students? Our Fisdap colleagues will also be available to talk through a range of solutions that will enhance your program and your students' training experience.

Booth hours:
Wednesday, October 16: 11:00 AM

–

4:30 PM
Thursday, October 17: 11:00 AM

–

4:30 PM
Friday, October 18: 10:00 AM

–

1:00 PM
---

You're Invited: Join Us for Exclusive Educator Events!


Flipped Classroom Training Workshop*
Tuesday, October 15, 2019 | 9:00 AM – 3:00 PM
Tulane Center for Advanced Medical Simulation & Team Training
131 South Robertson St | 3rd Floor | New Orleans, LA
We'll walk you through what a flipped classroom is, why it works, and how to implement it in your classroom.
Fisdap Feedback Session*
Tuesday, October 15, 2019 | 3:30 PM – 5:00 PM
Hotel Monteleone | 214 Royal St | New Orleans, LA
Changes are coming to Fisdap, and we want them to be based on your feedback!

Second Line Parade & Customer Appreciation Reception*
Thursday, October 17, 2019 | 6:00 PM – 9:30 PM

Parade Kick-Off:
Cafe Du Monde | 800 Decatur St | New Orleans, LA

Customer Appreciation Reception:
Bourbon Vieux | 501 Bourbon St | New Orleans, LA

Celebrate with us as a thank you for your continued support!
Note: If you are unable to make it at 6:00 for the parade, you are still welcome to join us at Bourbon Vieux anytime between 6:30 PM and 9:30 PM.

*Registration and approval required to attend
---

We hope to see you soon!

If you have any questions, please contact your dedicated Public Safety Specialist.