Bob Elling, MPA, EMT-P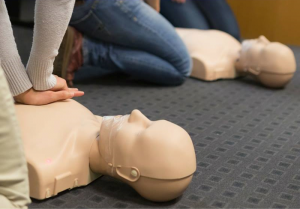 (Part 6 of a 6-part series: CPR, ECC, and First Aid Guidelines: Version 2015)
First Aid
A number of topics were addressed in the 2015 Guidelines on first aid that will be incorporated into updated protocols and procedures. Let's take a closer look at the specifics here.
Positioning the Ill or Injured Person and Position for Shock
If the area is unsafe for the first aid provider or the person, move to a safe location if possible (Class I).
If a person is unresponsive and breathing normally, it may be reasonable to place him or her in a lateral side-lying recovery position (Class IIb).
If a person has been injured and the nature of the injury suggests a neck, back, hip, or pelvic injury, the person should not be rolled onto his or her side, but instead should be left in the position in which the individual was found, to avoid potential further injury (Class I).
If leaving the person in the position found is causing the person's airway to be blocked, or if the area is unsafe, move the person only as needed to open the airway and to reach a safe location (Class I).
If a person shows evidence of shock and is responsive and breathing normally, it is reasonable to place or maintain the person in a supine position (Class IIa,).
If there is no evidence of trauma or injury (eg, simple fainting, shock from nontraumatic bleeding, sepsis, dehydration), raising the feet 6 to 12 inches (30 to 60 degrees) from the supine position is an option that may be considered while awaiting arrival of EMS (Class IIb).
Do not raise the feet of a person in shock if the movement or the position causes pain (Class III).
Oxygen Use in First Aid
The use of supplementary oxygen by first aid providers with specific training is reasonable for cases of decompression sickness (Class IIa).
For first aid providers with specific training in the use of oxygen, the administration of supplementary oxygen to persons with known advanced cancer with dyspnea and hypoxemia may be reasonable (Class IIb).
Although no evidence was identified to support the use of oxygen, it might be reasonable to provide oxygen to spontaneously breathing persons who are exposed to carbon monoxide while waiting for advanced medical care (Class IIb).
Medical Emergencies
Asthma and Stroke
It is reasonable for first aid providers to be familiar with the available inhaled bronchodilator devices and to assist as needed with the administration of prescribed bronchodilators when a person with asthma is having difficulty breathing (Class IIa).
Use of a stroke assessment system by first aid providers is recommended (Class I).
Chest Pain
Aspirin has been found to significantly decrease mortality due to myocardial infarction in several large studies. It is therefore recommended for persons with chest pain due to suspected myocardial infarction (Class I).
Call EMS immediately for anyone with chest pain or other signs of heart attack, rather than trying to transport the person to a health care facility yourself (Class I).
While waiting for EMS to arrive, the first aid provider may encourage a person with chest pain to take aspirin if the signs and symptoms suggest that the person is having a heart attack and the person has no allergy or contraindication to aspirin, such as recent bleeding (Class IIa).
If a person has chest pain that does not suggest that the cause is cardiac in origin, or if the first aid provider is uncertain or uncomfortable with administration of aspirin, then the first aid provider should not encourage the person to take aspirin (Class III).
Anaphylaxis, Hypoglycemia, and Dehydration
The recommended dose of epinephrine is 0.3 mg intramuscularly for adults and children who weigh more than 30 kg, 0.15 mg IM for children who weigh 15 to 30 kg, or as prescribed by the person's physician. First aid providers should call 911 immediately when caring for a person with suspected anaphylaxis or a severe allergic reaction (Class I).
When a person with anaphylaxis does not respond to the initial dose, and the anticipated arrival time of advanced care will exceed 5 to 10 minutes, a repeat dose may be considered (Class IIb).
If the person is unconscious, exhibits seizures, or is unable to follow simple commands or swallow safely, the first aid provider should call for EMS immediately (Class I).
If a person with diabetes reports low blood sugar or exhibits signs or symptoms of mild hypoglycemia and is able to follow simple commands and swallow, oral glucose should be given in an attempt to resolve the hypoglycemia. Glucose tablets, if available, should be used to reverse hypoglycemia in a person who is able to take them orally (Class I).
It is reasonable to use dietary sugars as an alternative to glucose tablets (when not available) for reversal of mild symptomatic hypoglycemia (Class IIa).
First aid providers should wait at least 10 to 15 minutes before calling EMS and retreating a diabetic with mild symptomatic hypoglycemia with additional oral sugars (Class I).
If the person's status deteriorates during that time or does not improve, the first aid provider should call EMS (Class I).

In the absence of shock, confusion, or inability to swallow, it is reasonable for first aid providers to assist or encourage individuals with exertional dehydration to orally rehydrate with CE drinks (Class IIa).
If these alternative beverages are not available, potable water may be used (Class IIb).
Toxic Eye Injury and Chemical Eye Injury
It can be beneficial to rinse eyes exposed to toxic chemicals immediately and with a copious amount of tap water for at least 15 minutes or until advanced medical care arrives (Class IIa).
If tap water is not available, normal saline or another commercially available eye irrigation solution may be a reasonable alternative (Class IIb).
First aid providers caring for an individual with chemical eye injury should contact their local poison control center or, if the poison control center is not available, seek help from a medical provider or 911 (Class I).
Trauma Emergencies
Control of Bleeding
There is no evidence to support the use of pressure points or elevation to control external bleeding, and this practice is not recommended (Class III).
The standard method for first aid providers to control open bleeding is to apply direct pressure to the bleeding site until it stops (Class I).
Local cold therapy, such as an instant cold pack, can be useful for these types of injuries to the extremity or scalp (Class IIa).
Cold therapy should be used with caution in children because of the increased risk of hypothermia in this population (Class I).
Because the rate of complications is low and the rate of hemostasis is high, first aid providers may consider the use of a tourniquet when standard first aid control does not control severe external limb bleeding (Class IIb).
A tourniquet may be considered for initial care when a first aid provider is unable to use standard first aid hemorrhage control, such as during a mass-casualty incident, with a person who has multisystem trauma, in an unsafe environment, or with a wound that cannot be accessed (Class IIb).
Although maximum time for tourniquet use was not reviewed in a 2015 ILCOR systematic review, it has been recommended that the first aid provider note the time that the tourniquet is first applied and communicate this information to EMS providers. It is reasonable for first aid providers to be trained in the proper application of tourniquets, both manufactured and improvised (Class IIa).
Hemostatic dressings may be considered by first aid providers when standard bleeding control (direct pressure with or without gauze or cloth dressing) is not effective for severe or life-threatening bleeding (Class IIb).
Proper application of hemostatic dressings requires training (Class I).
Open Chest Wounds
We recommend against the application of an occlusive dressing by first aid providers to an individual with an open chest wound (Class III).
In the first aid situation, it is reasonable to leave an open chest wound exposed to ambient air without a dressing or seal (Class IIa).
Concussion
Any person with a head injury that has resulted in a change in level of consciousness, has progressive development of signs or symptoms, or is otherwise a cause for concern should be evaluated by a health care provider or EMS personnel as soon as possible (Class I).
Use of any mechanical machinery, driving, cycling, or continuing to participate in sports after a head injury should be deferred by these individuals until they are assessed by a health care provider and cleared to participate in those activities (Class I).
Spinal Motion Restriction
Given the growing body of evidence showing more actual harm and no good evidence showing clear benefit, we recommend against routine application of cervical collars by first aid providers (Class III).
If a first aid provider suspects the patient has a spinal injury, he or she should have the person remain as still as possible and await the arrival of EMS providers (Class I).
Musculoskeletal Trauma
In general, first aid providers should not move or try to straighten an injured extremity (Class III).
In such situations, providers should protect the injured person, including via splinting in a way that limits pain, reduces the chance for further injury, and facilitates safe and prompt transport (Class I).
If an injured extremity is blue or extremely pale, activate EMS immediately (Class I).
Burns
Cool thermal burns with cool or cold potable water as soon as possible and for at least 10 minutes (Class I).
If cool or cold water is not available, a clean, cool or cold (but not freezing) compress can be useful as a substitute for cooling thermal burns (Class IIa).
Care should be taken to monitor for hypothermia when cooling large burns (Class I).
After cooling of a burn, it may be reasonable to loosely cover the burn with a sterile, dry dressing (Class IIb).
The following types of burns should be evaluated by a health care provider: Burns associated with or involving (1) blistering or broken skin; (2) difficult breathing; (3) the face, neck, hands, or genitals; (4) a larger surface area, such as the trunk or extremities; or (5) some other cause for concern (Class I).
Avulsed Tooth
In situations that do not allow for immediate reimplantation, it can be beneficial to temporarily store an avulsed tooth in a variety of solutions shown to prolong the viability of dental cells (Class IIa).
If none of these solutions is available, it may be reasonable to store an avulsed tooth in the injured person's saliva (not in the mouth) pending reimplantation (Class IIb).
Following dental avulsion, it is essential to seek rapid assistance with reimplantation (Class I).
If you want to read all the details and background, take a look at the Supplement to Circulation, volume 132, number 18, supplement 2, November 3, 2015.
I hope this series of blog posts has been helpful in providing both an overview and information on many of the specific recommendations for changes to the 2015 Guidelines. Over the next few months, the ECSI authors and editors will be working very hard to update the instructor network and provide the highest-quality books and materials so you can train students to save lives in their communities. Thank you for all you do and keep up the great work of saving lives!
See you in the streets!
---
Bob Elling's Bio
Bob Elling, MPA, EMT-P, is a clinical instructor with Albany Medical Center assigned to teach at the Hudson Valley Community College Paramedic Program in Troy, New York. He has served as a medic since 1978, originally in New York City, and currently with Colonie EMS Department, Times Union Center, and Whiteface Medical Services. He is a passionate advocate for the American Heart Association, serving on the Capital Area Board and the New York state advocacy committee, and has served on the National Faculty as well as the Founder's Affiliate Board.
Bob's proudest professional accomplishments include being the AHA Basic Science Editor for the 2005 Guidelines, being the Medical Editor of Caroline Emergency Care in the Streets (sixth to eighth editions), having trained thousands of EMTs in the past four decades, and being an ambassador to the Marine Corps Marathon.
Bob has authored 46 books and contributed to 33 other books. He has also written many video scripts and magazine articles.
He enjoys writing, traveling, riding his Harley or Trek road bike, distance running (having completed 31 marathons), listening to all types of music (mostly classic rock), skiing, and hanging out with his family and black Lab. He lives in Colonie and Lake Placid, New York.