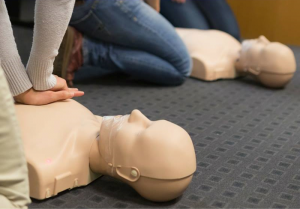 Bob Elling, MPA, EMT-P
(Part 4 of a 6-part series: CPR, ECC, and First Aid Guidelines: Version 2015)
Special Circumstances of Resuscitation
A number of topics were addressed in the 2015 Guidelines on special circumstances of resuscitation (i.e., pregnant patient, pulmonary embolism, and opioid overdose) that will be incorporated into updated protocols and procedures. Let's take a closer look at the specifics here.
Cardiac Arrest Associated With Pregnancy
Priorities for the pregnant woman in cardiac arrest are provision of high-quality CPR and relief of aortocaval compression (Class I).
If the fundus height is at or above the level of the umbilicus, manual LUD can be beneficial in relieving aortocaval compression during chest compressions (Class IIa).
Because immediate ROSC cannot always be achieved, local resources for a PMCD should be summoned as soon as cardiac arrest is recognized in a woman in the second half of pregnancy (Class I).
Systematic preparation and training are the keys to a successful response to such rare and complex events. Care teams that may be called upon to manage these situations should develop and practice standard institutional responses to allow for smooth delivery of resuscitative care (Class I).
During cardiac arrest, if the pregnant woman with a fundus height at or above the umbilicus has not achieved ROSC with usual resuscitation measures plus manual LUD, it is advisable to prepare to evacuate the uterus while resuscitation continues (Class I).
In situations such as nonsurvivable maternal trauma or prolonged pulselessness, in which maternal resuscitative efforts are obviously futile, there is no reason to delay performing PMCD (Class I).
PMCD should be considered at 4 minutes after onset of maternal cardiac arrest or resuscitative efforts (for the unwitnessed arrest) if there is no ROSC (Class IIa).
Cardiac Arrest Associated With Pulmonary Embolism
In patients with confirmed PE as the precipitant of cardiac arrest, thrombolysis, surgical embolectomy, and mechanical embolectomy are reasonable emergency treatment options (Class IIa).
Thrombolysis may be considered when cardiac arrest is suspected to be caused by PE (Class IIb).
Thrombolysis can be beneficial even when chest compressions have been provided (Class IIa).
Cardiac or Respiratory Arrest Associated With Opioid Overdose
It is reasonable to provide opioid overdose response education, either alone or coupled with naloxone distribution and training, to persons at risk for opioid overdose (Class IIa).
It is reasonable to base this training on first aid and non-health care provider BLS recommendations rather than on more advanced practices intended for health care providers (Class IIa).
Empiric administration of IM or IN naloxone to all unresponsive patients with opioid-associated life-threatening emergency may be reasonable as an adjunct to standard first aid and non-health care provider BLS protocols (Class IIb).
Victims who respond to naloxone administration should receive advanced health care services (Class I).
For patients with known or suspected opioid addiction who have a definite pulse but no normal breathing or only gasping (ie, a respiratory arrest), in addition to providing standard BLS care, it is reasonable for appropriately trained BLS health care providers to administer IM or IN naloxone (Class IIa).
Standard resuscitative measures should take priority over naloxone administration (Class I), with a focus on high-quality CPR (compressions plus ventilation).
It may be reasonable to administer IM or IN naloxone based on the possibility that the patient is not in cardiac arrest (Class IIb).
Responders should not delay access to more-advanced medical services while awaiting the patient's response to naloxone or other interventions (Class I).
Unless the patient refuses further care, victims who respond to naloxone administration should receive advanced health care services (Class I).
Bag-mask ventilation should be maintained until spontaneous breathing returns, and standard ACLS measures should continue if ROSC does not occur (Class I).
After ROSC or return of spontaneous breathing, patients should be observed in a health care setting until the risk of recurrent opioid toxicity is low and the patient's level of consciousness and vital signs have normalized (Class I).
If recurrent opioid toxicity develops, repeated small doses or an infusion of naloxone can be beneficial in health care settings (Class IIa).
Naloxone administration in post-cardiac arrest care may be considered to achieve the specific therapeutic goals of reversing the effects of long-acting opioids (Class IIb).
The next section of this blog will go into the specifics on pediatric basic and advanced life support and cardiopulmonary resuscitation quality. If you want to read all the details and background, take a look at the Supplement to Circulation, volume 132, number 18, supplement 2, November 3, 2015.
See you in the streets!